Cointiply is a cryptocurrency-only reward website as well as an app that gives away small amounts of crypto such as Bitcoin, Dogecoin, Litecoin, and Dash to users for absolutely FREE!
With Cointiply's Bitcoin faucet, you can easily win a random amount of Coins in just one click, every day.
What's more, Cointiply also provides great opportunities to earn coins by doing the things you love online, including completing a captcha, playing online games, signing up for exciting services, taking surveys, watching videos, discovering new products, and installing free apps.
The good thing is, you don't really need any complicated skills or knowledge in order to start earning.
Cointiply is available worldwide and opens to all users. So sign up today and start earning FREE Bitcoin from your laptop or phone, in any country, on your own schedule and timeline – without the need for a bank account!
Is Cointiply Legit?
Cointiply is certainly a legit site. Founded in 2018, Cointiply claims to be the #1 Bitcoin Rewards Platform, trusted by over 2.7 million users around the world, and has paid out more than $3,000,000  to their users.
In addition, Cointiply is also rated EXCELLENT on Trustpilot and has 2966+ reviews!
How much can I earn with Cointiply?
You can expect to earn up to $30 per month on Cointiply by completing simple tasks. The amount of coins you can earn on this platform varies depending on your location, demographics, time, and effort.
The more active you are, the more money you can earn.
Take advantage of their referral program, in which you have unlimited earning potential.
There is no limit to how much time you spent on the site, how many referrals you can send, or how much you can earn!
How to earn FREE Bitcoin on Cointiply
Let's start turning your time into money. Cointiply offers over 20 easy ways to earn FREE Bitcoin.
No, you won't be able to quit your job or get rich by performing numerous tasks on Cointiply. But it's definitely a great way to earn a tiny fraction of Bitcoin in your spare time.
1. Roll the Faucet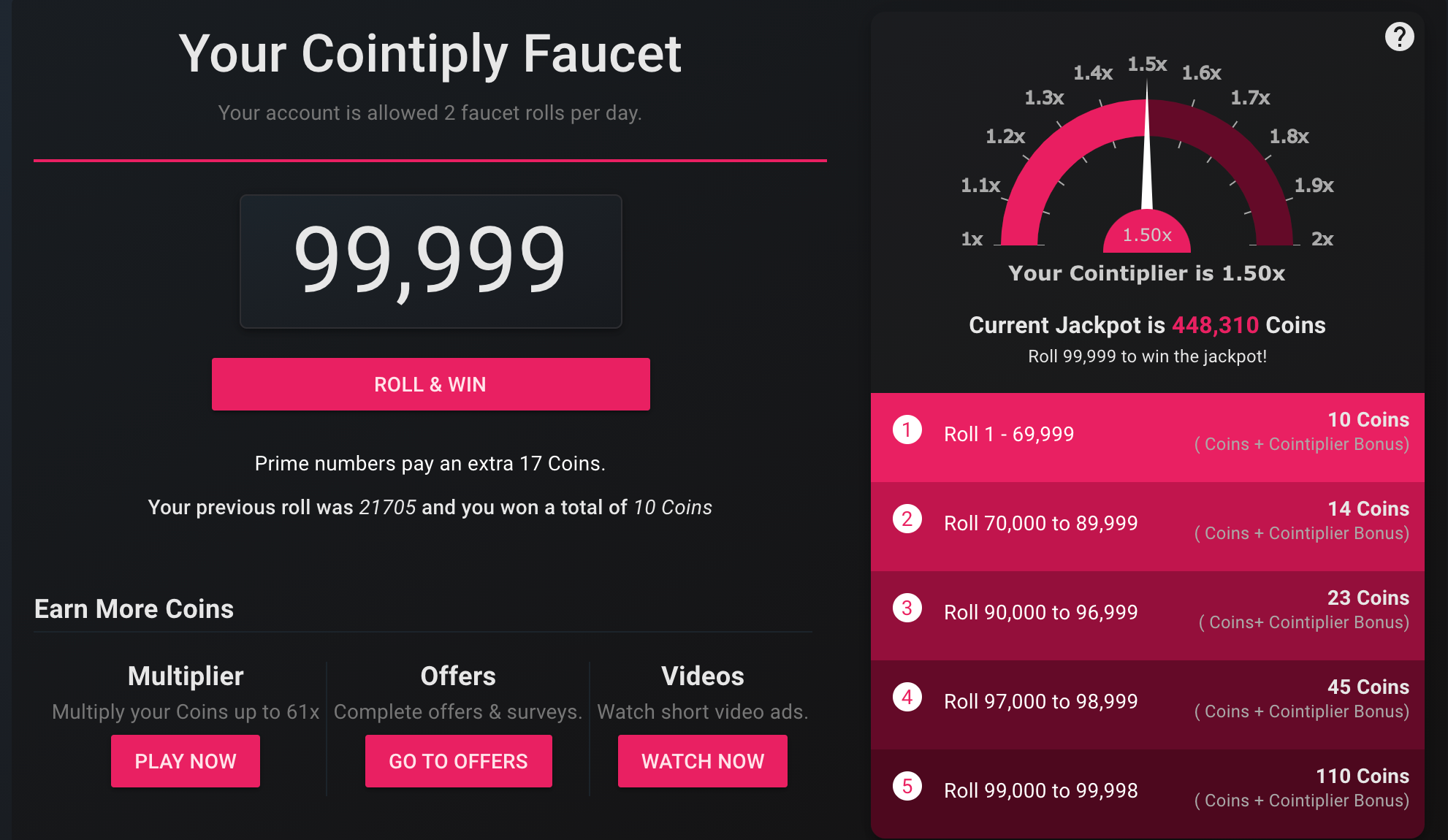 Rolling the faucet is the easiest way to earn Bitcoin on Cointiply. The higher the number, the more coins you earn.
If you get a prime number, you'll get an extra 17 coins. Of course, the biggest prize is hitting the jackpot, if you're lucky enough to roll 99,999.
Take a second to login into your Cointiply account and start collecting free daily faucet coins. It may seem like it's not worth it, but even a small amount of 10 coins every day can add up over time.
2. Redeem Cointiply Promo Codes
Enter promo code on Cointiply to redeem free coins. It's very easy but you gotta be fast! I mean super fast! As Cointiply only gives away 99 free coins to the first 13,999 users that redeem the code.
To be among the first to get New Promo Code, you might want to follow Cointiply on Twitter.
3. Complete Daily Surveys
If you enjoy sharing your opinion, you can participate in surveys for products and services. You can earn anywhere from $1 to $5 per online survey.
Answer a few simple questions about yourself, and they will recommend surveys that match your profile. You can see how much you can earn and how long it takes before taking a survey.
Compared to other survey sites, Cointiply still pays you coins even for your time if you're disqualified from a survey – most sites don't even do that.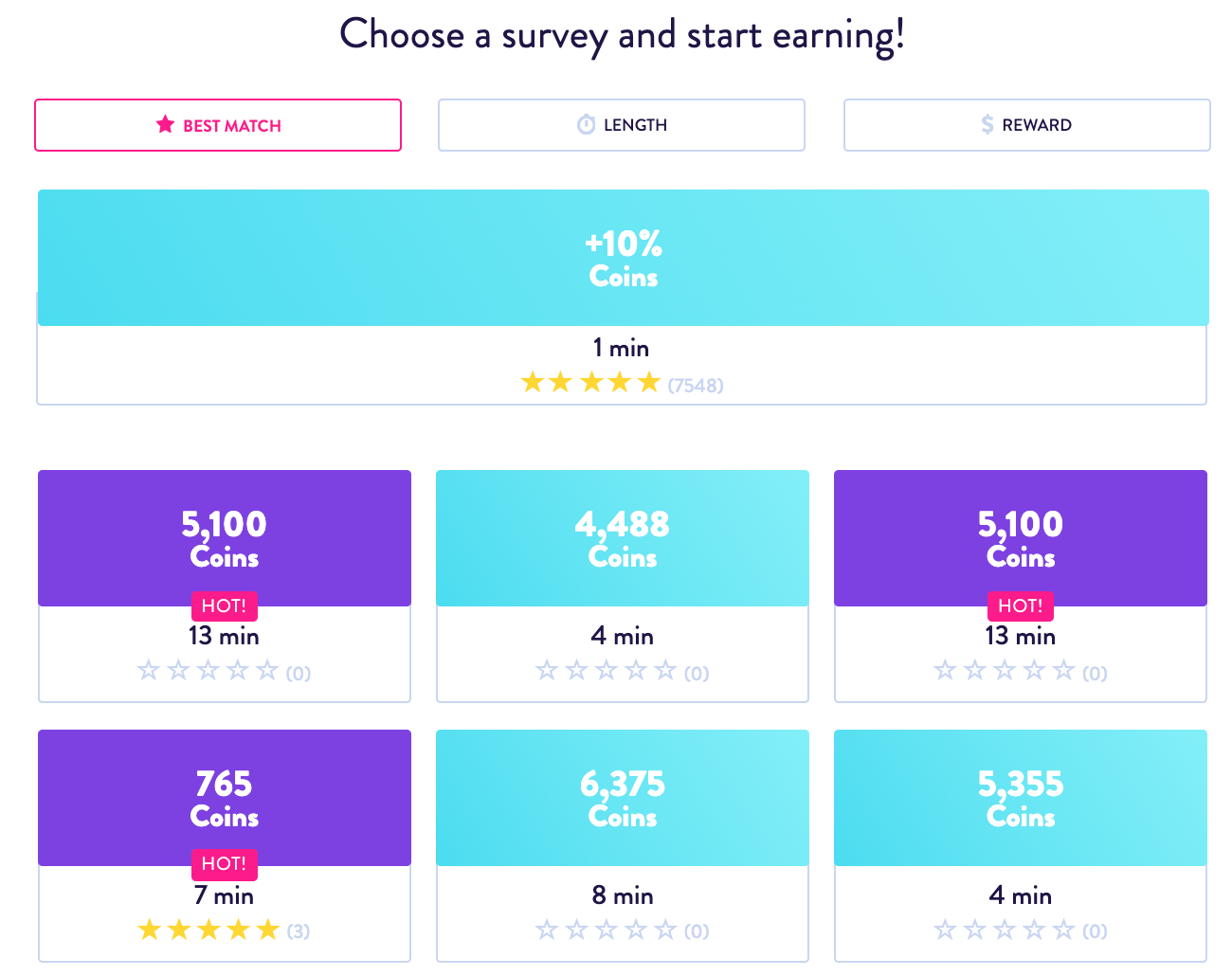 4. Play Games
Another way to earn free Bitcoin is if you love playing games. The longer you actively play a game, the more Coins you will receive and the more Bitcoin you'll earn!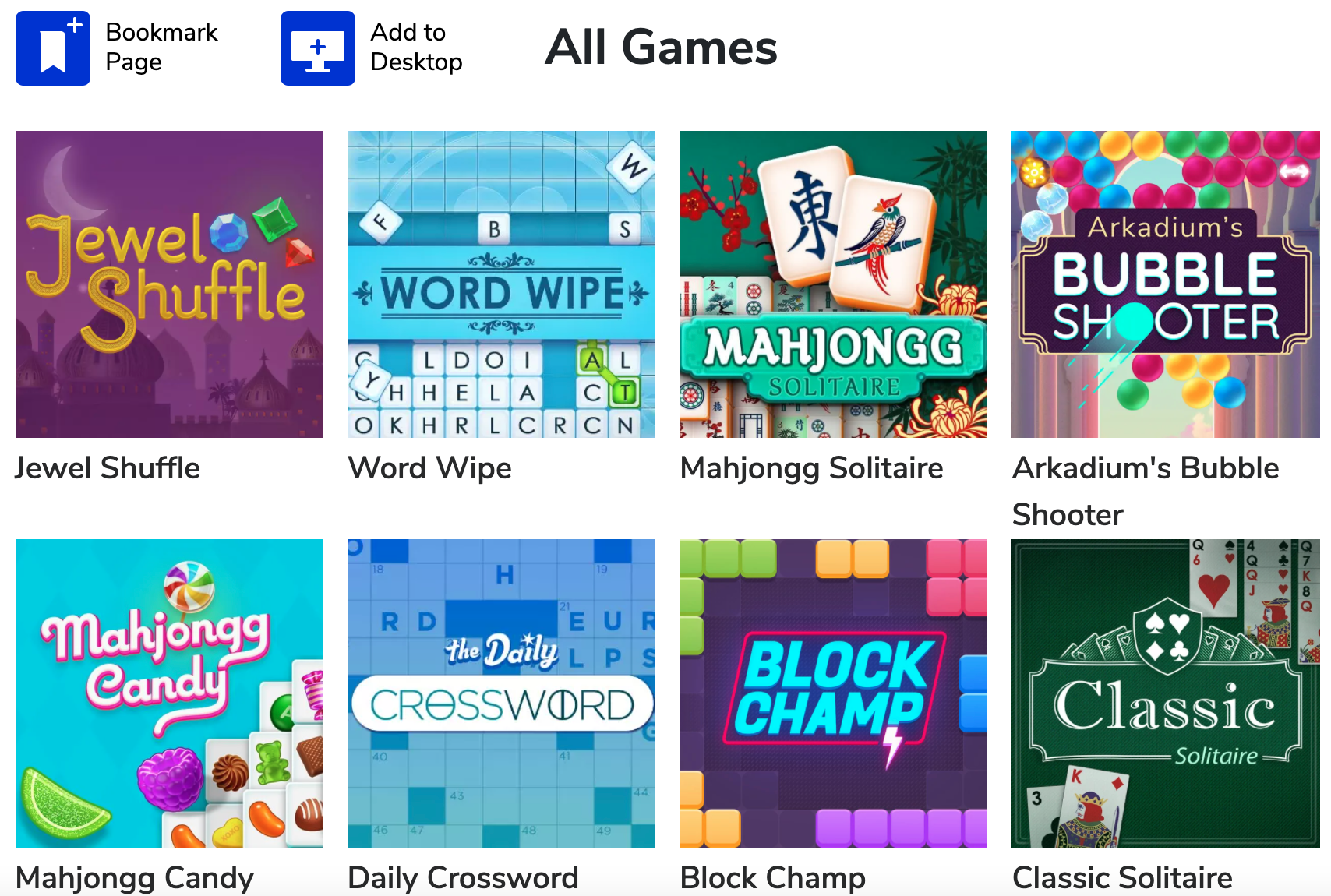 5. Watch Videos
Watching videos is one of the best ways to earn semi-passive coins on Cointiply.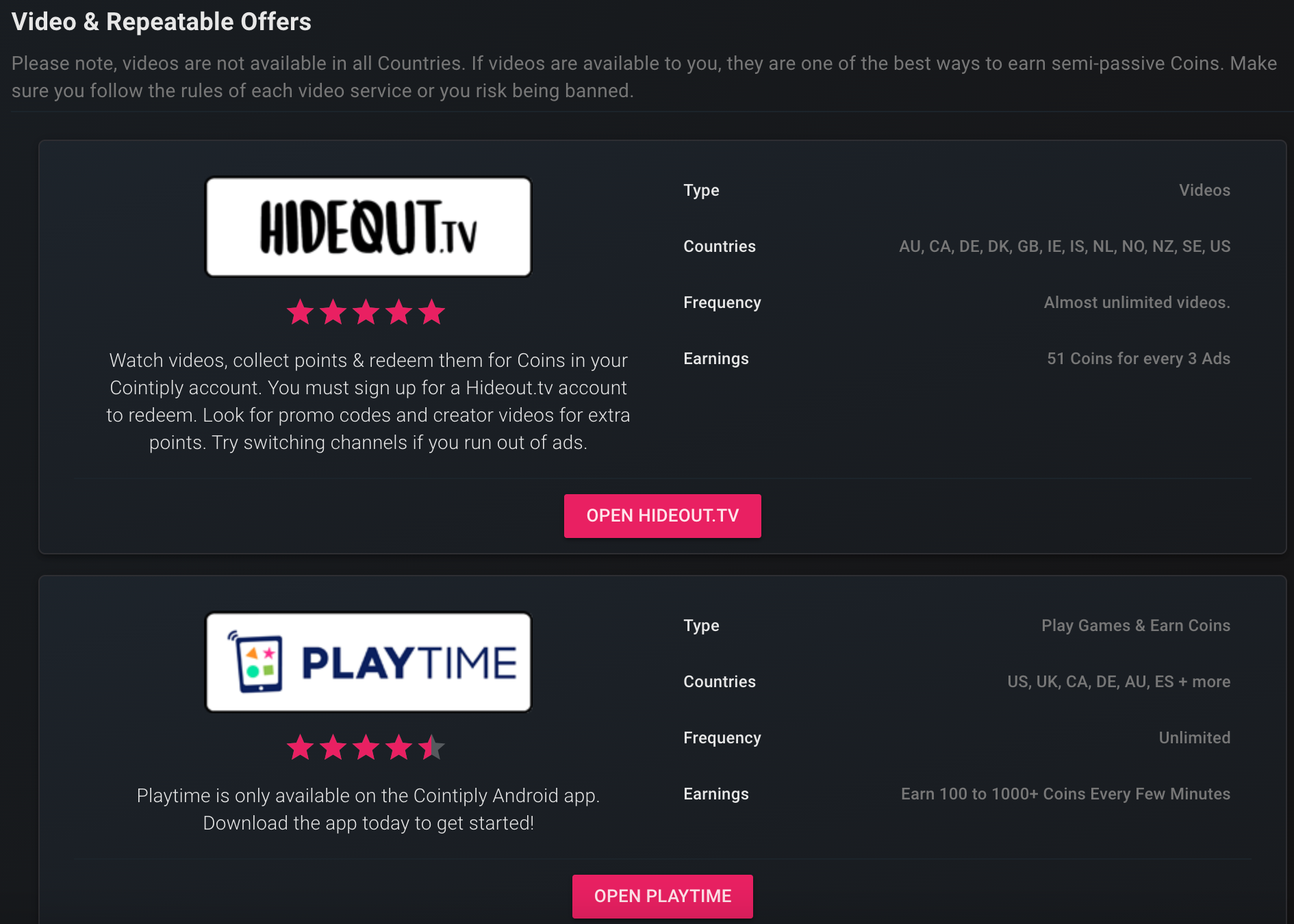 6. View Paid to Click ads (PTC Ads)
Viewing PTC ads is a very easy way to earn Coins, though it doesn't pay much.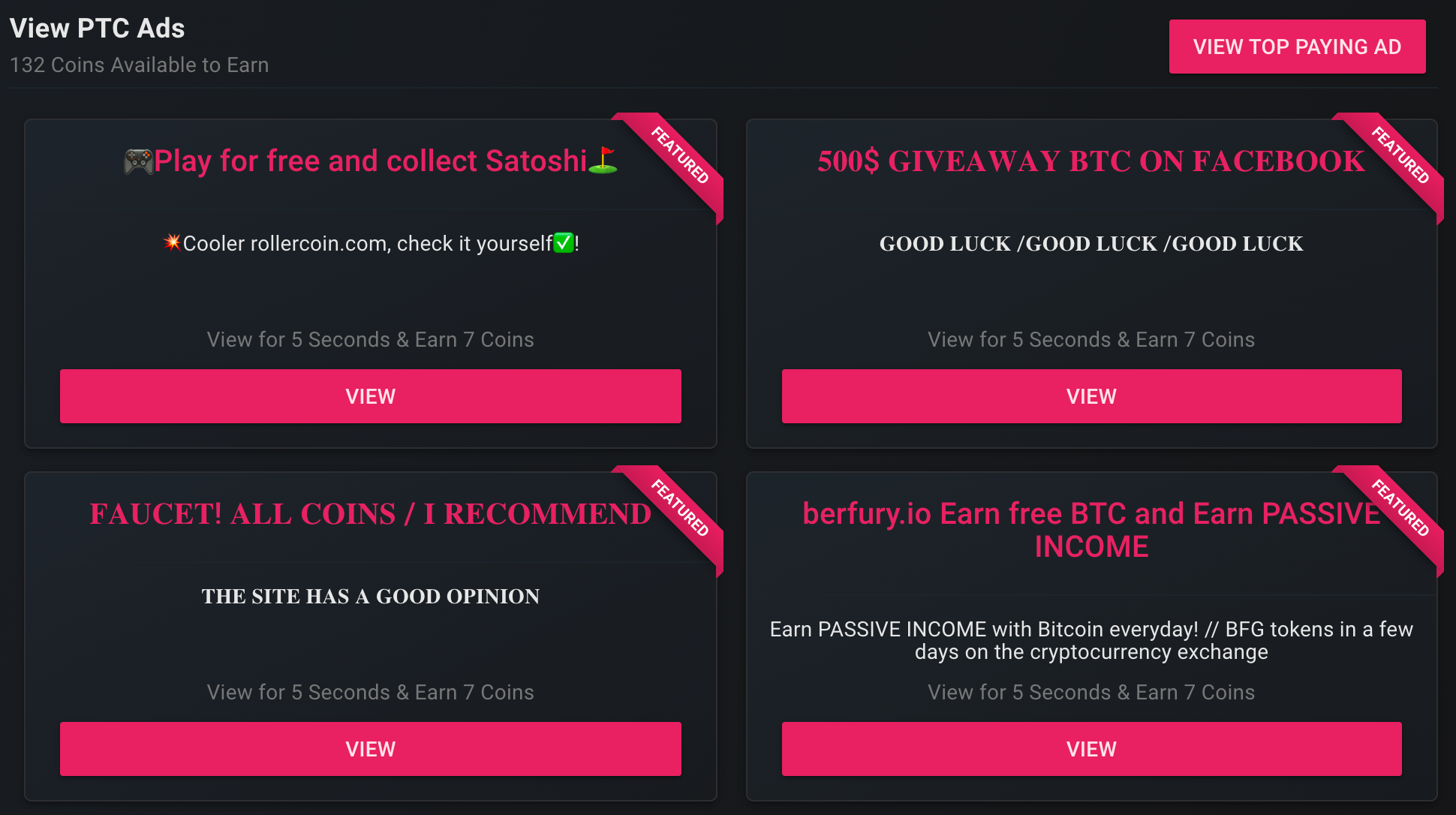 7. Install Mobile App
You can also install a free mobile app and sign up for offers to earn Coins. Higher paying offers may take a longer time to complete.

8. Join Cointiply Chat Rain Pool
Earn Coins through the Rain Pool is completely passive. However, before you can join the Rain Pool, you must complete at least 1 offer, survey, or PTC ad on that day to qualify. After that, you don't have to do anything and you'll automatically earn a share of the pool.
That said, to increase your share, you need to complete offers, surveys and simply being active on the platform. The more Coins you earn from completing other tasks, the higher your rain share will be!
It's like getting extra bonus coin on top of your earnings.
9. Multiply Your Coins

If you're willing to risk your Coins, Multiplier offers an opportunity to multiply your value.
Here's how it works:
You choose how much you want to wager, starting from 10 coins.
If you find a red Gem cluster, you win. If you hit a black Gem cluster, you lose.
Every time you select a winning target, your Coin balance will increase. But, if you choose a losing one, it's game over, you'll lose your bet.
It's like gambling, winning depending on your luck.
10. Earn Interest on Your Coin
If you reach 35,000 coins, you can choose to leave your coins on Cointiply and earn 5% fixed interest in returns. It's a great way to make some good passive income!
To start earning 5% interest on your Coins balance, go to your account settings and enable this option.  Interest is calculated daily and paid weekly.

11. Claim your Loyalty Bonus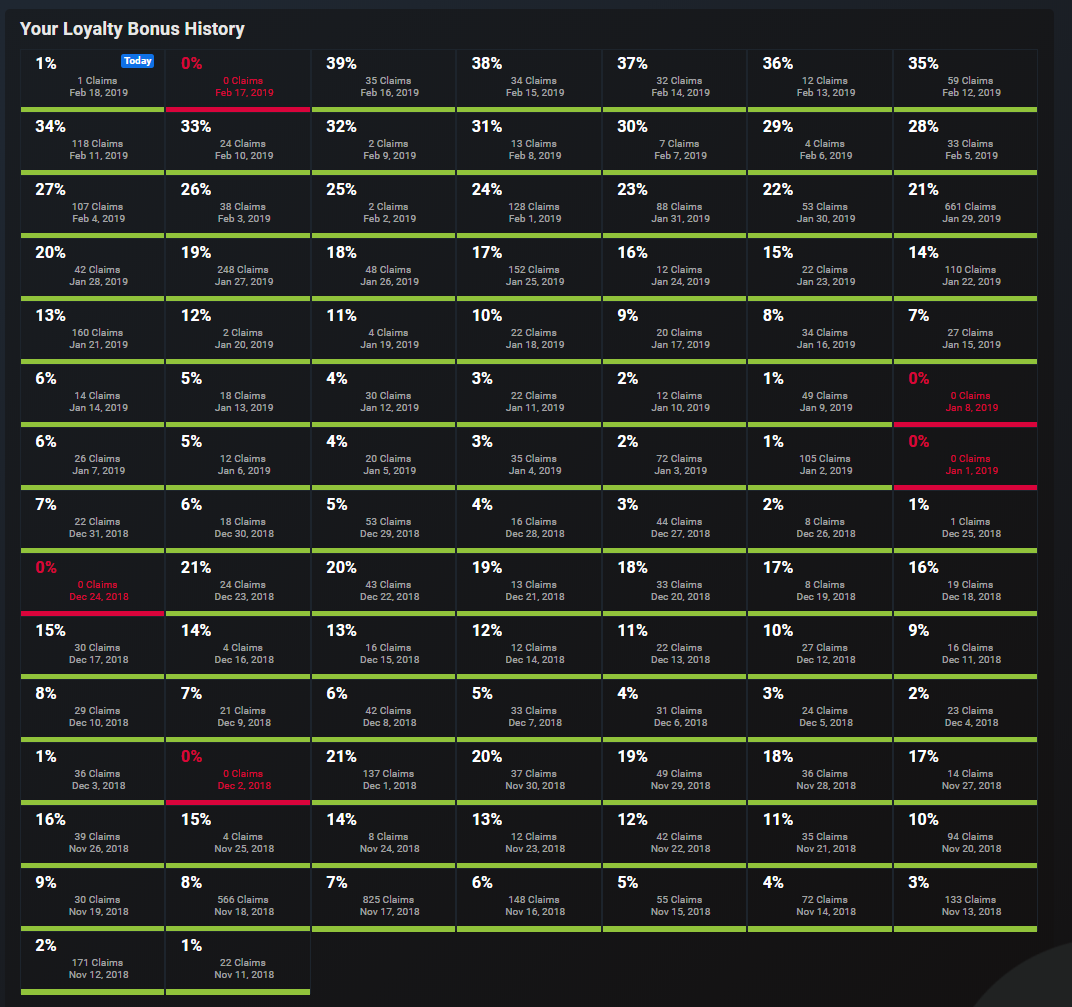 Log into your Cointiply account and roll the faucet every day, your loyalty bonus will increase 1% for each day, all the way up to 100% (your last 100 days). It's easy and rewarding. The catch is that you have to make a claim every day, otherwise your loyalty bonus will reset even if you miss a day!
12. CointiPoints and Item Pods

Another great way to boost your earnings is to own some special collectible items.
When you earn Coins on Cointiply, you'll also automatically earn CointiPoints. You get 10% of your coins as additional CointiPoint. For instance, you get 10,000 Coins for completing a task, you'll also earn 1,000 CointiPoints.
You can then use CointiPoints to purchase Item Pods.
There are two types of items:
Consumables: Items that can be used for a short period of time, so they can provide boosts on a temporary basis.
Equipped:  Items that are part of your equipment can boost your earnings permanently.

13. Refer Users
Inviting friends to join Cointiply is another easy way to earn rewards. For each new user, you refer, you will earn 25% of their faucet claims FOR LIFE as well as 10% of their offer earnings.
There is no limit to how many friends you can invite or how much you can earn!
How do I get paid?
You earn Coins for every action taken on Cointiply. Each coin is worth $0.0001.
10,000 Coins = US $1
Once you reach the payout threshold, you can convert your Coins to cryptocurrency.
You need at least 50,000 coins ($5) to withdraw Coins to your Bitcoin wallet and a minimum of 30,000 coins ($3) to your DOGE, Dashcoin, and Litecoin wallet.
What's great is that Cointiply does NOT charge you withdrawal fees. You get 100% of your earnings directly to your crypto wallet.
After you request a payout, you will receive the payments in 24-72 hours.
Cointiply Pros
Available to anyone worldwide
FREE to join
Lots of earning opportunities
Responsive customer service
Generous referral program
Transparent and fast payment system
No withdrawal fees
Cointiply Cons
Some tasks offer very low rewards.
The amount of Bitcoin received may differ slightly, as Coins will be converted to Bitcoin based on the market price at the time of withdrawal.
Only pay in 4 cryptocurrencies: Bitcoin, Dash, Litecoin, and Dogecoin.
Is Cointiply worth It?
Similar to other faucet websites, it takes time and effort to earn a decent amount of money on Cointiply.
If you enjoy playing games, sharing your opinions, watching videos, surfing online, we would recommend Cointiply as it offers one of the highest paying averages in the market.
The Bitcoin rewards platform also offers a wide range of variety of earning opportunities. You can find something that works for you, allowing you to earn some free bitcoin while doing what you already do or love doing.
Instead of mindlessly scrolling through Facebook, or watching TV, put an hour or two a day into earning money/bitcoins with Cointiply.
There's zero risk.
Wait no more! Sign up here and start earning cash/bitcoins in your spare time.
And lastly, if you liked this post, don't forget to share it on Facebook, Pinterest, and Twitter.